Getting to Homer
Share a ride/car with someone you meet at one of the other Alaska Hostel
Hitchiking in Alaska is usually fun!
Pratt Museum - This is an amazing place. It is not the biggest, but it has so much info on the history of Homer, the history of Alaska, learn about tide pools, webcam to gull island and Katmai bears. They also have a homesteaders cabin you can have a look at. Also, a short art/nature trail behind were you can sometimes see moose and every once in a while a bear too. This trail is open all the time and is a nice place to take a walk in the morning or evening (but don't miss the museum - you won't regret it!) They one a national award recently as one of the top museums in the country The land and original building was on part of the Pratt property - they started it partly to display stuff the Pratt's collected and created while living here since the 1930's) Obviously close; from the Homer Hostel, take a left, then take a left on Bartlett. Reviews
Center for Alaskan Coastal Studies - Check out there "Creatures of the Dock" tour on their "Guided Tour" page.
Islands & Ocean Visitor Center - Check out there "Summer Interpretive Programs" on their "Calendar" page
Bus from Anchorage to Denali and Fairbanks
**Converted buses run on waste vegetable oil Bio-Fuel. Support this business in supporting the environment!
Cycle Logical - Great bike shop
Fireweed Gallery - One of my favorite art galleries here (there are others too) One their webpage there's a nifty online "Homer Art Gallery Guide" to introduce you to all the galleries in Homer. Check it out!
Mako's Water Taxi - Frequent departures for boat transportation to Kachemak Bay State Park, Seldovia, and wherever you need to go across the bay. Guided Kayak tours and independent kayak rentals available.
Smoke Wagon Water Taxi - Transportation across the bay and kayak rentals.
Homer Air - Air Taxi, Flightseeing, Glacier Tours, Bear Viewing, Seldovia. Check them out!
Bay Excursions - Water taxi and tours with Captain Karl, a birder and naturalist.
Bear Viewing (Bald Mountain Air) These folks will take you on an incredibly scenic floatplane flight across Cook Inlet to a prime bear viewing area. Prepare to be amazed! I was. Ask Will at the Homer Hostel for more info about his experience or see their website for awesome pictures and to reserve your space.
Glacier Viewing Flights Bill and Barbara with Kachemak Bay Flying Service will take you on a flight exploring the wonders of our bay. In their restored historic 1929 Travel Air S6000B floatplane you'll soar past the Homer Spit, over Halibut Cove to see Homer's glaciers and icefields close up. It's a flight I'll never forget! Ask Will at the Homer Hostel for more info about his experience or see their website for awesome pictures and to reserve your space.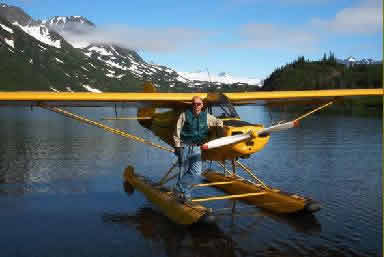 Dragonfly Aero Eagles, hawks, and Alaskan Aviators are the only ones who can see some sights in Alaska. Take a scenic introductory floatplane flight in Homer Alaska. Start the adventure, learn to fly!
Pioneer Car Rentals Inc./Hertz of Homer 907-235-0734
Alaskan Alpine Treks - Experienced Guided Backpacking and Hiking Trips in Alaska
Alaska Directory - Your one-stop destination for anything you can think about Alaska. This Alaska Directory is designed to help its users find the Alaska information, articles, source, companies, products and services.
DirectoryAlaska.com - Directory of Alaska resources on the web including Alaska business, Alaska guide
Restaurants
Two Sisters Bakery (1/2 mile - 800 meters) This is a very yummy place! I was addicted to ther gooey, nutty, scrumptious cinnamon rolls for quite some time so watch out. i also recommend their bread with chocolate inside (have them heat it up a bit. They also have great savories and bread, and many other amazing things. Their coffee gets lots of complements at the hostel. Many of their breads are baked in their wood fired oven which is also a work of art. And to top it off, they have a deck where you can see the mountains and the beach is only a few minutes further walk. Reviews
All Hopped Up (25 steps - 10 meters) This coffee shop is right next store. They also have chili (meat and vegetarian too), biscuits and gravy, display awesome photos. The owner Michael is all hopped up friendly! To get there, walk out of the Homer Hotel and look left!
Duncan House Diner (1/4 mile - 400 meters) Great place for breakfast. Eggs, bacon, biscuits and gravy, pancakes, etc, etc. To get there, turn left from the Homer Hotel and walk about 5 minutes, it is on your right. Reviews
Cosmic Kitchen (3/4 mile - 1km) This place is awesome. Some people think it's expensive fast food; but i think it's cheap really, really delicious inexpensive food. They have great seafood, burritos, burgers, and more. From the Homer hostel, take a left and walk about ten minutes, it's on your left. Reviews
Cafe Cups (1/10th mile - 150meters) Seafood, steaks, tacos, sandwiches, burgers. Very good food - a bit pricy - open for lunch and dinner. To get there turn left out of the Homer Hotel, walk a few minutes and you will see on the left; you can't miss it, it has giant cups on the outside! Reviews
This links list is growing and is by no means all inclusive. There is so much to do in Homer! Come explore it!
Home ] [ Homer Info ] [ Hostel Info ] [ Events ] [ Photos ] [ Photos II ] [ Map ] [ Guestbook ] [ Links ]